HMP Bullingdon: Drugs found during prison crackdown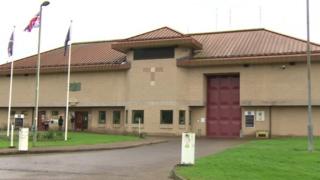 Drugs were found during a crack-down on illegal contraband at HMP Bullingdon.
Police officers discovered traces of cocaine, heroin, MDMA - the active agent in ecstasy- and cannabis during an operation on Wednesday.
A visiting 30-year-old London woman was arrested on suspicion of possessing Class A drugs with intent to supply.
The operation, which police said was pre-planned and not in response to a specific threat, followed a similar operation in September last year.
The searches were assisted by the South East Regional Organised Crime Unit, Thames Valley Police, the South East Counter Terrorism Unit and the National Crime Agency.
There were five positive traces of cocaine, five positive traces of heroin, one positive trace of hallucinogenic THC, three positive traces of MDMA and two positive traces of cannabis.
In total 161 people were searched, including prisoners, visitors and prison staff. The woman arrested was released on bail until 2 March 2016.
Last year inspectors found the use of the so-called legal high Spice inside the prison near Bicester, Oxfordshire, was leading to violence.