Henley-on-Thames residents challenge Heathrow aircraft noise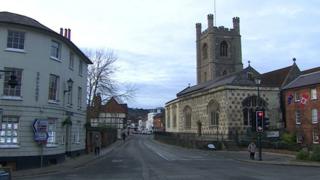 Residents in Henley-on-Thames have challenged Heathrow officials over an increase in aircraft noise.
They complained of being woken up in the early hours and of increased aircraft noise throughout the day.
Henley MP John Howell told a public meeting it was due to air traffic service changes to a flight path.
A Heathrow representative at the meeting said the airport had not been made aware of "any significant changes over Henley".
Updates on this story and more from Oxfordshire
'Postbag of complaints'
Resident Kathleen Dymond said: "We can get planes occasionally from about 4 o'clock in the morning right to late evening, until 11 or 12 o'clock sometimes."
Resident Nigel Pike said: "I've lived in my cottage for about 18 years now and apart from Concorde noise I never noticed much aircraft noise until about 18 months ago.
"I get woken up in the morning, my daughter gets woken up in the morning."
Mr Howell said: "My postbag is quite large on this subject. It is a growing problem."
He blamed air navigation service provider NATS for altering the so-called Compton route in June 2014 without consulting his constituents.
Heathrow had also not been told about the change.
Compton is a route used for Heathrow flights during particular wind conditions.
Mr Howell said when this occurred, the route change meant planes now performed a 180 degree turn above Henley.
NATS said the turn was performed by aircraft coming in to land when the normal approach to the airport (from the west) is reversed due to weather conditions and had nothing to do with the Compton route.
Matt Gorman, sustainability and environment director for Heathrow, said at the meeting: "We've certainly done some analysis and from what we can see we are not aware of any significant changes over Henley.
"But we will certainly study it further. We've set up a community noise forum to look at exactly this kind of issue."
A NATS spokeswoman said: "We were pleased to support Heathrow Airport and the local MP by helping to answer questions at the public meeting, and we work hard to find ways of addressing aircraft noise problems within the busy airspace over southern England."