Oxford Literary Festival 'to investigate' paying authors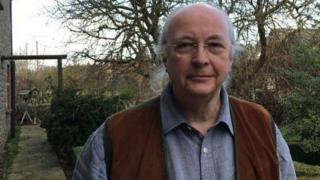 Oxford Literary Festival has confirmed that it will investigate the payment of authors after its patron Philip Pullman resigned over lack of appearance pay.
The festival said it would "meet with all interested parties to discuss how to achieve payment of fees" from 2017.
Mr Pullman confirmed on Twitter that he had resigned due to the festival's "attitude to paying speakers".
In an open letter to The Bookseller, author Amanda Craig called for writers to boycott non-paying festivals.
'Loyal team'
The Oxford Literary Festival is a registered charity that hosts events including writers, authors and experts.
In a statement, the festival said it was supported by a "loyal team" of volunteers and had no full time staff.
"Given the limitations of the tight budgets we run to, paying each speaker would require an additional 15% in costs for the speakers across the 250 events planned for 2016" it said.
The festival confirmed it would meet with "interested parties" to discuss payments for 2017 and beyond.
Pullman, author of the His Dark Materials trilogy and president of the Society of Authors, said he strongly believed that festivals should pay authors who speak.
"Where everyone else is being paid, the cleaners, cooks and the waiters, everyone is being paid except the person at the very centre of this, the author" he said.