Oxford flood relief channel public consultation begins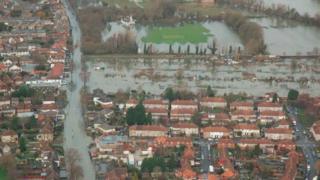 A public consultation into options for the route of a £120m flood relief channel in Oxford has started.
The planned four-mile flood (6.5km) channel would flow through the city's western floodplain and divert excess water away from 1,200 homes.
Flooding caused widespread disruption in February 2014 with homes and major Oxford routes cut off for days.
Now the Environment Agency and local councils will hold five drop-in events during a six-week public consultation.
Residents and businesses will be able to talk to the project team, suggest ideas, and indicate their preferred route for the channel.
During the flooding thousands of sandbags were issued to residents and some had to use temporary toilets after drains overflowed.
Fire crews were also called in with pumps to divert water away from hundreds of homes into fields.
The dates and times of the drop-in events can be found on the county council's website. Construction of the channel is expected to start in spring 2018.
Joanna Larmour, project director for the Environment Agency, said: "The more local input we have, the better the scheme will be."
People can also respond using an online e-consultation portal, which will be open until 1 March 2016.