Hinksey's flood-prone track 'to be raised'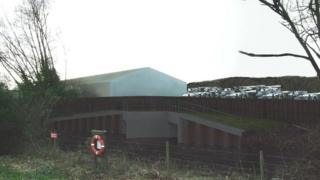 An £18m project to raise a section of track near Oxford to tackle repeated flooding on the line has been announced by Network Rail.
The rail operator wants to raise the track that runs through Hinksey by 40cm (15.7in) and install two large pipes underneath to redirect water flow.
It expects the work to be carried out over 16 days during July and August.
Joanna Grew, Network Rail's commercial scheme sponsor, said finding a solution had been "really important".
Flooding has closed the line 11 times in the past 14 years.
The company is working with the Environment Agency as part of a larger railway upgrade plan.
Ms Grew added: "Over the next six months we will continue to work closely with the Environment Agency and the council to keep residents and passengers updated on the project and to find any other ways to minimise disruption during the work."