Oxfordshire council cuts 'worse than worst-case scenario'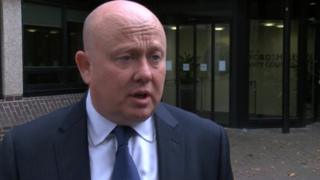 Oxfordshire County Council has proposed savings of £69m in what it says goes beyond its "worst-case scenario".
The Conservative-run council is aiming to save £361m between 2010 and 2020.
Leader Ian Hudspeth said he was "desperately sorry" and admitted the cuts to services like children's centres "would have a real impact on people and communities".
But he said they were needed because planned reductions in government funding were "much worse" than feared.
Officers have now recommended cuts to homelessness support, day centres for elderly people, support for carers, mobile libraries, bus subsidies, road gritting, and HIV prevention services.
In November a spat broke out between Mr Cameron and Mr Hudspeth after the prime minister criticised the council's planned cuts to front-line services.
'Desperately sorry'
Mr Hudspeth said: "We had hoped our original savings options would be a worst-case scenario and that we would not therefore have to go ahead with them all.
"We are desperately sorry that we now have to consider these extensive savings."
In December the local authority announced because of a "bleak settlement" from the government a further £20m might have to be found, beyond the "worst-case scenario" of £50m.
Mr Hudspeth added: "We have found a series of short-term measures to buy time to make yet more new savings proposals."
These include new calculations predicting lower inflation and higher council tax income, as well as drawing from reserves and bringing forward planned savings.
There will also be new cuts to training budgets and the library service, and the council wants to increase council tax by 3.99%, potentially costing people up to £50 more a year.
The council sets its final budget in February.