Alan Rickman helped students with charity video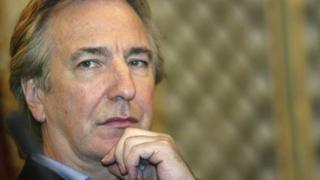 The actor Alan Rickman, who died on Thursday, recorded an "immense" charity video in aid of refugees shortly before his death.
The actor recorded a voiceover in November for a video of a tortoise eating a strawberry for OneClickGiving.
Charity founder Oliver Phillips said: "He could not have been more kind and generous, he was really great".
The video, which raises money by the amount of YouTube hits it gets, has been viewed more than 400,000 times.
Mr Phillips said the charity, founded by students at Oxford University, was "lucky" to get Rickman on board.
"We happened to know someone who knew him, [who] put us in contact.
"He liked the idea and he agreed to help out very kindly."
'Quite amused'
A team from the charity went to Rickman's house in London in late November for the recording, in aid of the Refugee Council and Save The Children.
"He could not have been more kind and generous, letting us in, welcoming us, asking us how university was going, he was really great throughout," Mr Phillips said.
"He'd just come off a multi-million dollar film set so I think he was quite amused by recording a tortoise."
Mr Phillips said the charity believes it was one of the last recordings the actor made, but Rickman's agent could not confirm this.
The actor spent an hour with the team, who did not know he was unwell.
"I'm just so grateful that with all this going on he still agreed to give us his time, it's really amazing.
"It would not have been the same without him. All the views we've got are accountable to him."
The actor is known for his roles in Harry Potter, Die Hard and Robin Hood: Prince of Thieves.
He died at the age of 69 after suffering from cancer, his family said.