Aaron Wright jailed for role in drug gang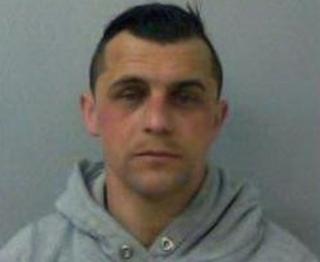 The 11th member of a gang that supplied cocaine, MDMA and amphetamine to the south of England has been jailed.
Aaron Wright, 34, of Didcot, Oxfordshire, who admitted his part in the operation, was sentenced at Oxford Crown Court to four years and eight months.
Ten other members of the gang were sentenced on 8 January following an 18-month police investigation.
Drugs worth £1.3m were seized, including nearly 5,000 MDMA tablets.
Wright pleaded guilty to four counts of conspiracy to possess with intent to supply relating to cocaine, MDMA, amphetamine and another class B drug.
Updates on this story and more from Oxfordshire
'Organised crime'
Thames Valley Police said that among the drugs officers recovered were around nine kilograms (19.8lbs) of cocaine, one kilogram (2.2lbs) of MDMA powder, four kilograms (8.8lbs) of amphetamine powder, three kilograms (6.6lbs) of Methoxetamine and 18kg (40lbs) of cannabis resin.
Police said the drugs were supplied by organised crime groups across England and Spain, with the gang storing and preparing them in Didcot, Newbury, Reading and Hemel Hempstead .
The drugs were distributed in Avon and Somerset, Swindon, Oxford, Reading and Didcot.
Det Insp Rachel Wheatman, from the Thames Valley Police Serious and Organised Crime Unit, said: "These conspirators made substantial amounts of money supplying drugs across the south of England and beyond.
"Disrupting this extensive supply chain and sending those involved to jail for a long time has been extremely satisfying for all of us who worked on this series of investigations."
Ringleader Neil Wadley, 47, of Pound Lane, Upton, Didcot, admitted conspiracies to supply drugs and was sentenced to 17 years in prison.
At the hearing last Friday, Judge Peter Ross said Wadley knew drugs "killed, caused crime and destroyed lives".