Frideswide Square 'spattered in gum'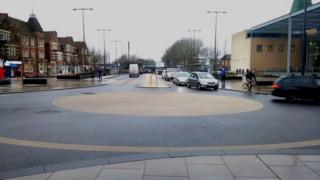 A new £6.7m junction in Oxford has been described as a "complete mess" by a councillor because it is covered in chewing gum.
The revamped Frideswide Square opened in December, but already requires cleaning by Oxford City Council.
John Tanner, board member for climate change and Cleaner, Greener Oxford, said: "We've got chewing gum spattered all over the place… it looks horrible."
He said the "arduous" process to clean the area could cost about £20,000.
The major project to turn the square's old traffic light system into a series of three roundabouts took 11 months to complete.
Updates on this story and more from Oxfordshire
Mr Tanner said: "We've spent all these millions and we're already getting a gum problem - and it's students, it's tourists, it's people who live in this city.
"Every time you drop gum on the ground it's costing everybody around you their council tax. That's what it's being spent on, we want to spend it on other things.
"We're relying on people to behave in a sensible way."
Resident Amanda Bell said: "I could not believe the amount of gum marking the paving on practically every single paving slab from Castle Street to Frideswide Square.
"There is just so much it looks like it has been done on purpose. Streets in other cities don't look like this. These people just don't care."