Oxford greyhound stadium: City council to look at compulsory purchase order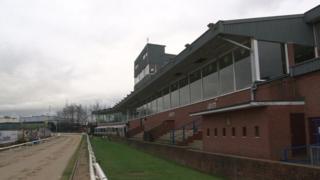 Oxford Stadium could be bought by the city council using a compulsory purchase order (CPO), its leader said.
Owners the Greyhound Racing Association (GRA) were refused permission to build 220 homes on the site in 2014.
At a meeting of campaigners trying to save the stadium from development, council leader Bob Price said the authority was considering using a CPO.
He added: "I think we're all anxious to get the stadium back into greyhound and speedway use."
Updates on this story and more from Oxfordshire
The Blackbird Leys stadium has not been used for greyhound racing since it was closed in 2012.
'Clearly a possibility'
Oxford East MP Andrew Smith said it was "very heartening" to see the level of support at the meeting on Thursday.
Mr Price said: "We've got to be patient, but I think we are going to look again at the CPO potentially, because that is something that is clearly a possibility.
"We've had negative views so far from the lawyers, but we're going to look at it again."
Last year a High Court judge approved the council's move to list it as a conservation area.
A CPO allows public bodies who need land or property to buy it without the owner's consent.
The BBC has contacted GRA for comment.