HMP Bullingdon: 'Ongoing concern' over prisoner cell time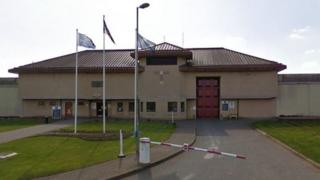 The amount of time prisoners spend locked in their cells at HMP Bullingdon in Oxfordshire has been raised as an "ongoing concern" in a report.
The Independent Monitoring Board said high rates of staff sickness and "considerable recruitment difficulties" were also "major challenges".
Legal high Spice was also described as a "significant contributing factor" to a rise in violence by inmates.
However, it said staff had demonstrated "commitment and professionalism".
Concerns over prisoner cell time were also highlighted in the 2013-14 annual report and inspectors reported concerns over the drug Spice last October.
'Unacceptable' violence
Other issues highlighted in the board's 2014-15 report included the low take-up and poor attendance of some education courses and activities, and delays processing casework.
The report did note some positive changes including a reduction in healthcare waiting lists and the reinstatement of the monthly library reading group.
A Prison Service spokesman said 26 additional prison officers were recruited last year, with a further 18 starting at Bullingdon this month.
He described violence in prisons as "unacceptable" and said those responsible could be reported to the police.
Since an independent inspection in June last year, more senior officers are now working on each wing to supervise and manage prisoners, he added.
He also said body scanners and the trial use of body-worn cameras by prison staff were also being introduced across the prison service.
Paul Miller, chair of the monitoring board, said various initiatives introduced following the arrival of the current governing governor were "likely to have a positive impact over time".