Cherwell council in legal fight over Hook Norton homes plan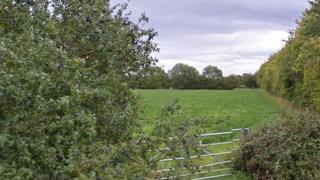 A legal challenge over plans for new homes in an Oxfordshire village is to be launched by the council that initially refused the application.
Cherwell District Council rejected plans for 54 new homes in Hook Norton over environmental concerns and traffic congestion fears.
But a government planning inspector overturned this decision on appeal by developers Gladman Developments Ltd.
Cherwell claims the decision to allow this appeal was "legally flawed".
The authority will now launch a legal challenge over the development, which is planned for agricultural land east of Sibford Road.
Michael Gibbard, Cherwell's lead member for planning, said the appeal should not have been allowed as the Hook Norton Neighbourhood Plan stipulated "no more than 20 dwellings should be built in any one location at any time".
The council will also argue the similarities between this case and an application for 95 homes in Kirtlington, Oxfordshire, which was refused at appeal due to a significant number of homes being concentrated in one village.