Geoff Smith road death: Man killed at crash scene was an 'idol'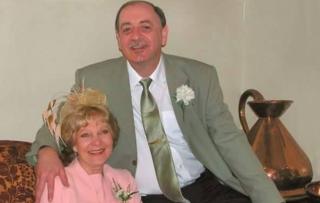 A man who was fatally struck by a van when he stopped to help at the scene of a crash has been described by his children as their "idol".
Geoff Malcolm Smith, 59, from Bloxham, near Banbury, Oxfordshire, died on Wednesday on the A4260 in Middle Aston, eight miles from his home.
He was married, with two children and six grandchildren.
His daughter, Helen Adkins, said he "had the patience of a saint" and "always put others before himself".
She said: "My dad was a loving husband and best friend to my mum, he was an idol and inspiration to both of his children, he was a wonderful supportive father-in-law, and the best, most loving, funny granddad his six grandchildren could have ever have asked for.
"He was a true family man with such a great big heart."
Mr Smith, a driving instructor, had been walking towards an overturned vehicle that had gone off the road when he was struck.
He died from his injuries in hospital.
The driver of the overturned car, a black Fiat Punto, had suffered minor injuries.
A 55-year-old man from Bicester has been arrested on suspicion of causing death by dangerous driving.