Oxfordshire warning to avoid river and canal walks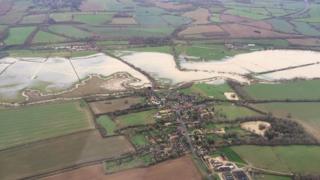 Residents in Oxfordshire have been advised to steer clear of canal and river walks as water levels rise.
The Environment Agency said further rain was expected which may "cause flood water to flow out into some low lying areas" in the region.
On Saturday, the Environment Agency issued a flood warning for the river between Lower Heyford and Oxford.
The River Cherwell has also spread over floodplains by the village of Clifton, south of Banbury.
Carol Mackay, Oxfordshire County Council's principal emergency planning officer, said: "If there are signs up saying that the towpath or land adjacent to a river or stream is not passable because river levels have risen, please obey such signage.
"The county council and its partner agencies will all be keeping an eye on river levels and ask residents to do the same."