MBE for woman's services to Oxfordshire's Women's Institutes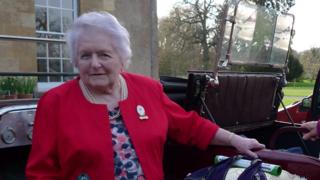 A former primary school teacher has been made an MBE for her services to the Women's Institute (WI) in Oxfordshire.
Barbara Gray, 84, from Oxford, said she was "amazed" to have been recognised in the New Year Honours list.
The mother-of-four spent 40 years volunteering as an adviser and believes she set up about 20 new WI branches.
Mrs Gray is stepping down from the role at the end of 2015 and said she will miss it "terribly".
Updates on this story and more from Oxfordshire
She has twice been elected the chairman of the Oxfordshire Federation of Women's Institutes, serving a total of six years in the post.
"When I heard [about the honour] I was gobsmacked, it is just wonderful," she said.
"The Women's Institute has always been about friendship, and being involved in your local community. I will miss the people."
The founder of an Oxford charity that uses art to help young people struggling in mainstream education was also made an OBE.
Juli Beattie set up the Art Room in 2002 and was honoured for services to education. In 2012 the Duchess of Cambridge became the charity's Royal Patron.
John Hutchison, from Abingdon, was made an MBE for his services to people with learning disabilities while chairman of South West Oxfordshire's branch of Mencap.
And Elizabeth Shapland was made an MBE for her voluntary work as a bereavement counsellor at HM Prison Bullingdon, near Bicester.
Leslie Underdown, from Banbury, was given a BEM for his work supporting the Cropredy community over the past 70 years by volunteering for the church and the Royal British Legion.