Frightened horse rescued from ditch at Oxfordshire farm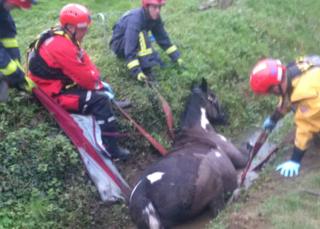 A horse has been rescued from a muddy ditch by firefighters in Oxfordshire.
The owner said his animal was startled by something and ran into the ditch where it became trapped.
Fire crews in dry suits and a specialist rescue team managed to lift the distressed horse to safety at the farm in Nether Worton at Hempton, near Banbury, on Saturday.
The animal was checked over by a vet and had not suffered any serious injuries.