Cecil the lion: Oxford University donations top £750,000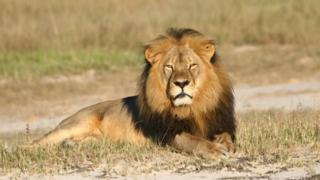 Oxford University scientists have received more than £750,000 towards their conservation research following the killing of Cecil the lion.
The donations were made to WildCRU, a unit within the Department of Zoology, which had satellite-tracked the famous lion's movements since 2008.
Cecil was killed in Zimbabwe by American dentist Walter Palmer in July, sparking public outcry.
The project is now monitoring surviving lions from Cecil's pride.
Updates on this story and more from Oxfordshire
WildCRU was set up 16 years ago to study lions in various parts of Africa in a bid to aid their conservation.
Prof David Macdonald, founding director, said: "The death of Cecil has galvanized world attention, and its importance extends far beyond the scurrilous killing of one lion - it is a metaphor for the plight of lions, other big predators and indeed wildlife as a whole.
"My greatest hope is that out of this sad affair will come a global commitment to finding ways that wildlife and people can live together for the wellbeing of both."