Oxfordshire County Council funding cuts 'worse than feared'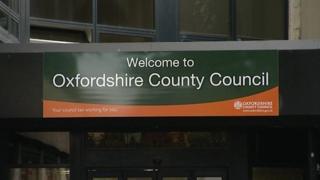 Oxfordshire County Council has said it will have to make an extra £20m of cuts because a government funding deal was "much worse" than feared.
The Conservative-run authority has planned £292m of savings for 2010-2018 but believes it now needs to cut a further £70m over four years, not £50m.
Leader Ian Hudspeth said he would raise the issue with the prime minister.
However, the government said the council's core spending power was forecast to increase.
In November a spat broke out between Mr Cameron and Mr Hudspeth after the prime minister criticised the council's cuts to frontline services.
Mr Hudspeth told the BBC: "I'll be trying to make [David Cameron] understand exactly the situation for Oxfordshire and the impact it will have on the residents."
He said the council would be hit hard by the "bleak settlement", which was a "big surprise".
The savings already found would "certainly not be enough" and the amount needed was "vast", he added.
"We already knew we had incredibly tough choices to make. While we'll continue to try to protect the most vulnerable people, that financial situation has now worsened considerably."
Proposals made so far have included cutting homelessness support, day centres for elderly people, support for carers, mobile libraries, bus subsidies, road gritting, and HIV prevention services.
The Department for Communities and Local Government said it was providing a "long-term funding settlement for the first time allowing local authorities to plan with certainty".
It said the reduction was 1.7% in real terms each year and that Oxfordshire's core spending power was forecast to increase by 1.4%, with £1.66bn to spend between now and 2020.
But the council said this did not take into account that pressures on the its services were rising, including demands on adult and children's social care.
The council sets its final budget in February.