Kidlington technology park approved on greenbelt land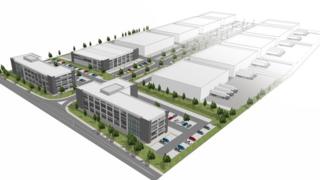 Controversial proposals to build a technology park on greenbelt land in Oxford have been approved.
Developers have got permission to build the facility off Langford Lane, Kidlington close to London Oxford Airport.
Cherwell District Council's planning committee approved the development at a meeting on Thursday.
But, campaigners say the proposed development is "not needed" and the greenbelt should be preserved.
Helen Marshall, of Campaign to Protect Rural England Oxfordshire, said: "In order to justify building on the Green Belt you have to exceptional circumstances - we don't believe that case has been made."
The building, which will sit on 6.5ha (16 acres) of land, formerly the base of Gosford All Blacks Rugby Club, will include offices, and research laboratories.
Developers, Hill Street Holdings, said the technology park was expected to create between 770 and 1,500 jobs.
Work on the park is expected to start early in the new year.