Oxford's Frideswide Square redevelopment opens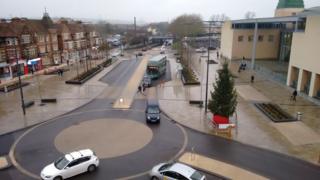 A new £6.7m "free-flow" junction near Oxford railway station has opened.
Work to turn the old traffic light system into a series of three roundabouts in Frideswide Square started in February.
Oxfordshire County Council said the design of the square was based on "shared space" in which pedestrians and vehicles are not segregated.
The county council said more than 37,000 cars, vans and light goods vehicles used the area each day.
Updates on this story and more from Oxfordshire
'Start-stop routine'
A spokesperson for the council said: "The new design encourages a slow (12-15mph) and smooth traffic flow meaning that the majority of cyclists will feel comfortable joining the main flow of traffic on the carriageway."
The last lights on the Christmas tree will be turned on this morning to mark the opening of the square.
David Nimmo Smith, cabinet member for environment and economy, said: "The new road layout creates a welcoming gateway into the city with only two traffic lanes, instead of the six we had before the work started, and massively enhanced public space.
"The old system with the traffic lights led to a start-stop routine which wasn't good for traffic flow and the general look of the area."
Annie Benadel, manager of La Croissanterie cafe on Frideswide Square, said takings had dropped 40% since the works began.
"It's difficult to see how we go from here - let's hope things improve. It looks really nice - I love it. Let's hope it brings more people in."
Oxfordshire County Council said it had taken almost 45,000 working hours and 400 tonnes of granite to complete.
There had previously been criticism that blind people would have difficulty using the area as there were no controlled crossings.
The council said it would make the contrast of tactile paving more pronounced and add signs encouraging motorists to give way to pedestrians.