Abingdon Poundland murder: Victim Justin Skrebowski was 'loving father'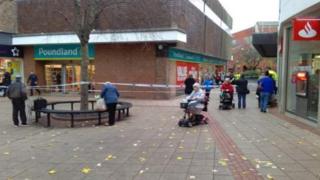 The family of a man stabbed to death in a Poundland shop in Abingdon have described him as a "deeply caring husband" and "loving father".
Justin Skrebowski, 61, from Oxford, was attacked at about 11:20 GMT on Monday.
His family, who also called him an "optimistic and forward looking man", said they were in "deep shock and distress" over the incident.
Trevor Joyce, 36, of Franklyn Close, Abingdon, will appear at Oxford Crown Court on Friday charged with murder.
In a statement released via Thames Valley Police, Mr Skrebowski's family said: "He was an optimistic and forward looking man, a deeply caring husband and a very proud and loving father to his children.
"It seems very hard that such a kind and caring individual should be snatched away from his family and friends in such a terrible way.
"The family greatly appreciates all the concern and sympathy expressed by the public and the media.
"As we are all in deep shock and distress, we would now appreciate a quiet period of mourning."