Oxford City Council 'scales back' affordable homes plan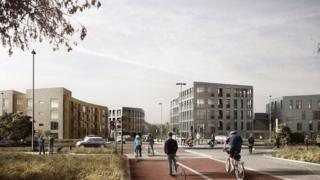 Plans to build more affordable homes in Oxford are being "substantially scaled back" due to the "negative effect" of government policies, its council says.
Oxford City Council said in its budget proposals it could no longer afford to buy 354 homes for council tenants at the Barton Park development.
Council tax could be raised by 1.99% to cope with "exceptional pressure".
The local authority's deputy leader Ed Turner said: "This is an extremely challenging budget to set."
"The greatest pressure is the rise in homelessness: it is now almost impossible to find a property in the privately rented sector affordable at housing benefit levels."
The council said it would invest £5m to purchase properties for use as temporary accommodation.
'Triple whammy'
The Barton Park development, for 885 new homes, is being undertaken by the council and Grosvenor Developments.
Oxford City Council said buying 354 homes for council tenants would have to be taken over by a council-owned housing company or a housing association as it would not be able to fund the estimated £52m up to 2023/34.
Mr Turner said: "Unfortunately, our Housing Revenue Account is being hit by a 'triple whammy'."
He said the council was being forced to reduce council rents, sell "high value council housing" and hand money to the government raised from charging market rents to tenants on household incomes of more than £30,000.
Councillor Sam Hollick, Green Group shadow member for housing, said: "What the government is doing is quite outrageous, stopping councils from what they have should have a right to do.
"While we share a lot of the ambitions of the [Labour] administration I think they could be more ambitious with ways to deliver affordable housing."
A report in to the budget for 2016/17 is due to be discussed at the City Executive Board on 17 December before a consultation starts.