Henley Townlands Hospital: New date set for opening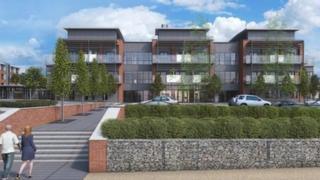 A new hospital which has been beset by delays is due to open in March, an emergency meeting has heard.
The meeting chaired by Townlands Steering Group heard contractors needed more time to complete "minor construction items".
The £16m hospital, which was due to open on Monday, is already four years behind schedule.
Ian Reissman of the steering group said it was "pleased and relieved" to have been given a firm date.
Developer Amber Infrastructure previously said it was working to open the hospital "as soon as is practicable".
Mr Reissman said: "Dates have been provided before - but its always better to have a date than not have a date.
"They've got to make sure the hospital is complete and safe before they hand it over and they have not been able to do that until the end of February."
Delays to the opening had been criticised by campaigners and the town's MP ahead of the meeting..
Original plans included 18 in-patient beds at the new hospital but instead 14 beds will be re-located from the existing building to a new on-site care home.
The new "health campus" will include a "rapid access care unit" designed to encourage more patients to be cared for at home.