Henley Townlands Hospital opening delays 'worrying'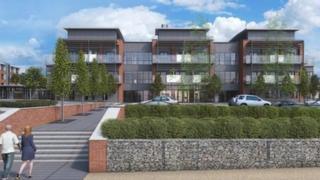 Delays to the opening of a new hospital in Oxfordshire have been described as "worrying" by campaigners.
Residents in Henley have complained about continuing hold-ups to the new £16m Townlands Hospital.
The hospital, which was due to open on Monday, is already four years behind schedule.
Developers blamed minor construction problems, while health bosses said efforts were under way to get the site open as soon as possible.
Mayor Lorainne Hillier said residents had been been "kept in the dark" over the delays.
"It's a lot of wasted money and it's very worrying that if they [developers] cant keep to the deadline of the completion of the hospital, what else will go awry," she added.
Henley MP John Howell said he did not have "any confidence" the hospital would now open on a new date set for January.
The new "health campus" will include a "rapid access care unit" designed to encourage more patients to be cared for at home.
Original plans included 18 in-patient beds at the new hospital but instead 14 beds will be re-located from the existing building to a new on-site care home.
Developer Amber Infrastructure said: "We're working with all parties to ensure completion will be reached as soon as is practicable so that local residents can benefit from a health facility of the highest quality at Townlands Hospital."
An emergency meeting chaired by the Townlands Steering Group will be held at the town hall later to discuss the issue.
Ian Reissman, from the group, said other concerns included "how the beds will operate in the care home, and how the the rapid access unit will work".