Vintage 1949 bus returns to Oxfordshire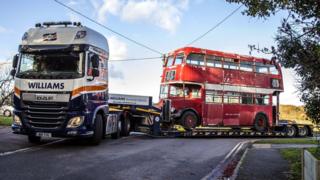 A 1949 bus that once operated in Oxford has been returned to the county.
The AEC Regent III was part of the City of Oxford Motor Services fleet and has been added to the exhibits at the Oxford Bus Museum in Long Hanborough.
However, the vehicle requires extensive restoration and visitors are not allowed to board it for health and safety reasons.
It was bought from an academic in the village of Mayville, New York, for about £5,000.
The museum paid an additional £8,000 to transport it back to the UK.
It said "considerable work" was needed for it to meet its "usual high standard of presentation".
Spokesman Frank Collingwood said: "There was relief when it was driven off the low loader under its own power.
"Nevertheless, there is a lot of work needed on the paintwork and the interior."
Long Beach, California
The bus served routes in Oxford for 12 years before it was acquired by the Atomic Weapons Research Establishment in Berkshire, where it ran from 1961 until 1974.
It was then exported to Long Beach in California where it served as a London bus tourist attraction.
Museum director Chris Butterfield said: "It's of the same bus layout as the London Transport Routemaster. We haven't got a bus of that layout in the museum collection in running order.
"It's the one I remember as a kid... it represents a way of life to so many people."
Experts will next investigate the state of the vehicle's chassis and find out what is missing, before commencing on the restoration project.