Oxford hospitals' pipeline route revealed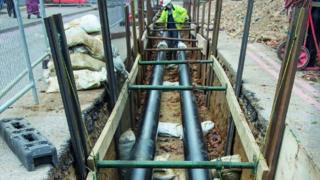 The route of a 2.2km (1.6 mile) pipeline between two Oxford hospitals has been revealed.
The Hospital Energy Project is an 18-month, £14.8m project to upgrade the heating and hot water systems at the John Radcliffe and Churchill hospitals.
It announced works at Woodlands Road, Sandfield Road, London Road, Latimer Road, All Saints Road, Stapleton Road, Old Road and Churchill Drive.
The hospital trust said there would be disruption to people in the area.
Residents have previously complained about the secrecy of the project and a lack of information.
Oxford University Hospitals NHS Foundation Trust believes the pipeline, which is already being installed in trenches between the hospitals, will mean the buildings are less reliant on the national power grid during the winter months.
Andrew Stevens, director of planning and information, said: "It will reduce our carbon footprint, increase energy efficiency and save costs."
He added they would try to ensure a minimum of disruption while Vital Energi laid the pipe.