St Leonard's Church in Eynsham graveyard set to close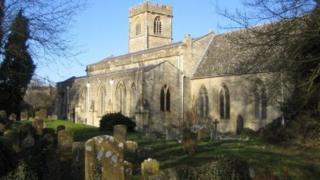 A village church is closing its graveyard because it is about to run out of space.
St Leonard's Church in Eynsham, Oxfordshire has just three spaces left and has applied for an official closure order.
Gordon Beach, chair of the parish council, said the council had been searching for a new site for 10 years.
Using land near the 13th Century church had proved unviable so far due to land prices and archaeological concerns.
In January Reverend Moray Andrews said it was "causing understandable concern in the community" when the graveyard was down to ten spaces.
'Anxiety and distress'
The church stopped taking reservations for plots 10 years ago when the shortage of space was becoming apparent.
Mr Beach said: "We are currently in discussion with the county council about a piece of land they own on the edge of the village, and that is progressing, and we are hoping that may resolve the issue."
Village funeral director Annie Green said the situation was causing residents "anxiety and distress".
She added: "It is desperately important to families to have their history still in the village, and to be able to pay their respects to their ancestors and also to the families that they've lost just recently.
"If you've got to tell an Eynsham resident that their only option is to be buried in a cemetery in Witney or Botley that is going to cause a lot of distress."