Ruined Westgate concrete blamed on roadwork delays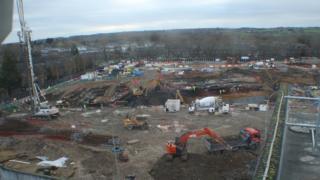 A company working on Oxford's Westgate Centre has blamed the loss of 100 tonnes of concrete on roadwork delays.
Contractor Hanson has applied to divert its mixing trucks through Sutton village to avoid work on the Cutteslowe and Wolvercote roundabouts.
It said in two weeks 40-minute delays caused about £22,500 of concrete to start to set, becoming too hard to use.
But residents say plans to cut through the small village are dangerous and will cause them months of misery.
Updates on this story and more from Oxfordshire
A spokesman for Hanson said the loss of concrete was "clearly having an impact" on construction work at the Westgate shopping complex.
At present Hanson uses the A415 and the A40, but the company has applied to divert via the B4449 through Sutton, followed by the B4044 and the A420.
If approved, 21 mixing trucks could use this route every day between 09:00 and 15:00 until November 2016.
Conservative councillor Charles Mathew said he received 40 letters from residents objecting to the route change.
He said: "We have had a number of serious incidents there. It is disturbing, and dangerous, for anyone walking in the road.
"I don't see why people's lives should be affected in order that [Hanson] might make more profits."
Sutton resident Peter Mullard said the route change would be "horrendous" for the village.
A council report said "time expired" concrete was having to be returned to a site in Stanton Harcourt.
It recommended the plan for approval at a meeting next Monday, but added that there was a "higher than average accident rate" on the proposed route.
Hanson spokesman David Weeks said motorists would be warned to drive through Sutton with "particular care".
The Westgate Oxford Alliance said the shopping centre was on schedule to open in October 2017.