Chiltern Railways admits problems on old Bicester-to-London line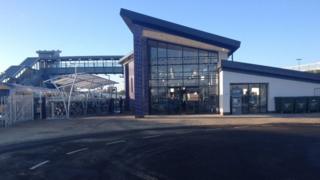 A rail company has admitted its existing service linking Bicester and London is "not up to standard" after a new £320m line opened.
Commuters have complained about delays and overcrowding on the old line into London Marylebone.
Chiltern Railways said it overestimated the numbers of travellers who would move from using Bicester North to the new Bicester Village station.
It said a later-than-usual autumn leaf fall had compounded delays.
Since the line opened on 26 October, trains from Bicester North have been cut from three to two an hour. An additional two trains an hour were introduced from Bicester Village, located at the other side of the town.
But a spokeswoman for the rail operator said its performance for the entire network had only dropped from 95% of trains on time to 90%.
'Been miserable'
Commuter Jude Livermore, from Witney, said she was continuing to use Bicester North as there was more parking available.
"You pay £4,500 for a season ticket and you have to sit on the floor - these past few weeks have just been miserable. Every single day there has been a delay," she said.
"I respect Chiltern Railways a lot - they have been trying but I think they could have foreseen some of this stuff."
Chiltern's commercial director Thomas Ableman said: "Roughly, we thought about half the people would switch from Bicester North to Bicester Village. But nothing like that has happened so it's true, we've had people standing on trains from Bicester North.
"Ninety percent of trains are still arriving on time - it's still a very high number, just not up to our normal standard.
"You can forecast, model and plan as much as you like, but there is an element where you have to wait and see what happens in reality."
He said changes were being made to timetables and additional carriages, becoming available in mid-December, would make the service "significantly better".