David Cameron welcomes St Mary's Church restoration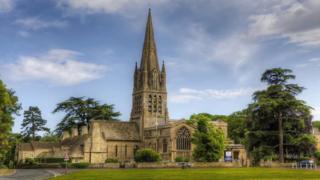 Funding to make urgent repairs to a leaking church roof in Oxfordshire has been welcomed by the prime minister.
The Heritage Lottery Fund is providing £143,500 to restore the 13th Century chancel of the Grade I-listed St Mary's Church in Witney.
David Cameron, who is a patron of the church and MP for Witney, said he was "delighted" to hear the news.
The project will repair the Victorian roofs of the chancel and organ chamber and restore masonry.
Mr Cameron added: "This well-loved church is a real focal point in the town and it's so important we preserve and share its long and fascinating history.
"Benefitting from such funds is a big step in enabling the church to achieve this."
The roof restoration will conclude a 15-year long weatherproofing programme.
It will be followed by a project to return interior spaces to their Medieval appearance, and the restoring of its Middle Age sculptures.
The Reverend Toby Wright, rector of Witney Parish, called the grant "wonderful".
He added: "Once the building is rain proof [we] can then begin the larger task of restoring the church's dark, water-stained interior fabric.
"New lighting will reveal the great beauty of the medieval stone and timber carving inside."
St Mary's is the oldest building in Witney, with the western half about 1,000 years old.
Its bell tower and 156ft (47.5m) spire were added in the 13th century.