Oxford landmarks recreated in miniature shown at Ashmolean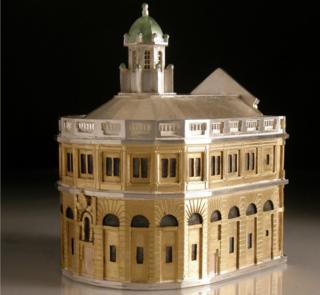 Six Oxford landmarks have been recreated in miniature by a silversmith as part of an exhibition at the Ashmolean Museum.
Vicki Ambery-Smith created the pieces to mark the 350th anniversary of the city's famous Sheldonian Theatre.
The Architecture in Miniature display features the Grade I-listed theatre in silver, yellow gold and enamel.
Other key pieces include a Radcliffe Camera brooch and St John's College recreated as a condiment set.
Ms Ambery-Smith, who creates ornate small-scale jewellery and boxes inspired by real and imaginary buildings, was commissioned by the Ashmolean to recreate six Oxford architectural landmarks of her choice.
Ms Ambery-Smith, 60, who lived round the corner from the Ashmolean as a child, said she was "totally delighted and honoured" to be given the commission.
She added: "It's rather like being invited home, coming full circle."
The signature piece is a miniature of the Sheldonian Theatre, created in sterling silver, measuring 7.1cm in length and 8.5cm.
The arcade and the upper storey have been plated in yellow gold and oxidised silver, with the cupola highlighted with enamel to represent oxidised copper. The roof of this "box" opens to reveal the etched interior of the theatre.
She said: "Deciding quite how the design should look was quite a challenge, but as a personal favourite Oxford landmark, I worked through several ideas till I had what I hoped was the right one."
Other works include Magdalen College Tower, created as a set of two stacking boxes made in silver, and a Keble College box photo etched in silver with red gold plate on the roof.
The exhibition runs from 14 November until 15 May 2016.