Oxfordshire County Council consultation over Bicester bypass routes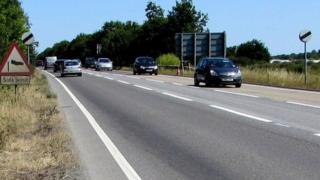 Proposals have been put forward for a new bypass designed to reduce traffic on the route into Bicester.
Oxfordshire County Council is consulting on two possible routes that could relieve pressure on the A41, which carries up to 34,000 cars a day.
The local authority said the perimeter road has also been prompted by plans for more housing in Bicester.
But concerns have been raised that both routes could impact local residents and run through flood plains.
The two options would connect two sections of the A41, from north of the M40's junction 9 to the Graven Hill area.
'Least worst option'
They are either for a road starting at the existing Vendee Drive roundabout, or a road connecting to the A41 further south, closer to the village of Wendlebury.
David Nimmo Smith, the cabinet member for transport, said the authority was "trying to be ahead of the game".
He added: "There is no easy option... we've got to try and do a juggling act to make sure that we have the least worst option."
He said a "technical solution" could be reached to cross the flood plains, but there would be "cost implications".
Julian Cordy, chairman of Wendlebury Parish Council, said his village would experience "more traffic, more pollution, more noise, and more rat-running" if the south option was selected.
"We're a small village of 160 houses, and we're just not being considered again in yet another piece of infrastructure around the ever growing town of Bicester."
Meanwhile a spokeswoman from Quadrant Estate Agents said the plans were not bold enough.
She said: "With the additional number of cars... and traffic already causing a problem, the new road will be not fit for purpose by the time it's finished."
Public exhibitions are being held in the area on Thursday, Friday and Saturday.