Oxfordshire County Council could scrap bus subsidies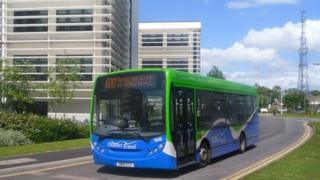 All subsidies to commercial bus companies in Oxfordshire face being scrapped, the county council has said.
More than £3m of public funding to 118 bus routes in Oxfordshire could end as the local authority tries to cut its transport budget by £6.3m.
Councillor David Nimmo Smith said: "We don't like having to do this, but it is an economic necessity."
Martin Abrams of the Campaign for Better Transport called it a "dark day for bus passengers in Oxfordshire".
He added: "The county council's bus cuts are by far the largest announced this year, and many of the services and routes which now face the axe will in effect mean the end of public transport altogether for thousands of local people."
The council said it may review the extent of the cuts in the new year if its budget settlement from central government is better than expected.
Mr Nimmo Smith said: "We've based our proposals today on what we think the worst-case scenario is and that will mean we're going to have to remove subsidies on all the subsidised buses and to restructure dial-a-ride.
"If the settlement is better than we're expecting it will allow us to put money back into the service, which means not all the bus subsidies will go.
"Unfortunately, we know we're not going to have enough money to save all the subsidies which means we are going to have to prioritise."