Bodies of RAF airmen Geraint Roberts and Alan Scott repatriated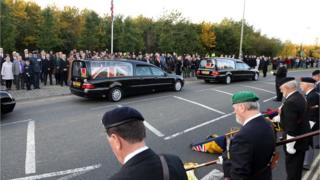 The bodies of two RAF officers killed in a helicopter crash in Afghanistan have been repatriated.
Flt Lts Geraint Roberts from north Wales and Alan Scott from London were both part of the Puma helicopter force based at RAF Benson, Oxfordshire.
An aircraft carrying their bodies landed at RAF Brize Norton earlier.
A cortege passed a Memorial Garden in Norton Way, Carterton, before continuing to the John Radcliffe Hospital, Oxford.
Lynn Little, the mayor of Carterton, near Brize Norton, said: "Because they are air force personnel it does bring it home to you and make it even sadder. Because they are local there will be a lot of people very upset today."
Father of two Flt Lt Roberts, 44, known to his colleagues as Roly, served in Bosnia, the Falkland Islands, Iraq and Afghanistan.
His commanding officer, Wing Cdr Toby Sawbridge, said: "He was my 'go to' man for all crewman issues and his honest and direct approach was always welcomed."
'Roly and Scotty'
Flt Lt Scott, 32, was undertaking his first operational tour with the Puma before he qualified as a tactics instructor next year.
His wife said her heart was broken that "such a vivacious, young and amazing person can be taken so cruelly and suddenly".
His commanding officer, Wing Cdr Mark Biggadike, said "Scotty" was "not one to seek the limelight" and was one of the "most dependable and intelligent officers" he had ever worked with.
An MoD spokesman said the crash was an accident and not the result of insurgent activity.
Three other people were killed when a Puma Mk2 helicopter crashed as it was landing at Nato's training and support mission HQ in Kabul on Sunday 11 October.