Oxfordshire County Council proposes £50m cuts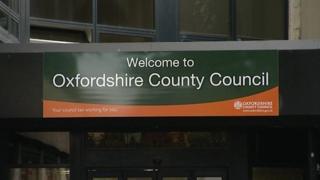 Oxfordshire County Council is looking at making a further £50m of cuts to services.
The elderly and the homeless could be most affected by proposals put forward by the authority, which has already announced cuts of £292m from 2010-2018.
Funding for children with special education needs could also be reduced if the plans go ahead.
Council leader Ian Hudspeth admitted: "It is going to be challenging, it is going to be very difficult."
The options will now go to a public consultation before the council decides which proposals to take forward in its new budget in February.
Mr Hudspeth said reduced government grants meant the authority had no option.
He explained savings made so far have included "some very controversial issues" such as the household waste recycling centres and the children's centres.
He said a further £50m of savings by 2019-2020 is "the worst case scenario", but "it's likely to happen".
Paul Cann, chief executive of Age UK Oxfordshire, described the ideas as "deplorable".
He said: "This is absolutely grim news. I think it's the most serious threat to vulnerable people that I have seen in my career."
He said the cuts would mean more elderly people having to be cared for in hospital.
The council is looking at more than 90 savings options, including cutting funding for homelessness services, seven health and wellbeing centres and reducing the amount spent on gritting roads.
Four mobile libraries could also shut, although child protection is not included in the options.
The council's annual budget is currently £583m.