Oxford Half Marathon delayed by trains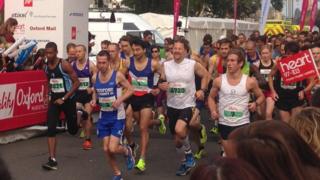 The start of the Oxford Half Marathon was delayed after runners got stuck on trains.
About 7,000 people took part in the event, which for the first time started in the city centre at St Giles.
The 13.1-mile (21km) race was put back by 15 minutes after participants were held up on the Great Western Railway service between Reading and Didcot.
Organisers described the delay as "due to circumstances beyond our control".
Overrunning engineering works caused delays of around 60 minutes, Great Western Railway said.
'Tough near the end'
Co-organiser Jamie Warren called the event "absolutely fantastic and a huge success", but said it was a "terrible shame" that some competitors were held up.
Delaying the race start any further was not possible because of commitments to reopen the roads on time, he said.
He added: "I can only hope it didn't affect too many people."
Also, during the race a moment of confusion occurred when lead runner Vincent Boit was directed along the wrong part of the course.
Organisers say they are investigating the incident.
Steve Naylor, from Witney, who won the men's race, called it a "cracking course, but a bit twisty in the parks".
"I enjoyed that, though it was tough near the end," he added.
The women's winner was Fabienne Amrhein, from Heidelberg in Germany, who is studying in Oxford.
"I think I need a few more days to realise I've won," she said.
"I've never been to Marston, that was lovely. But I couldn't have a nice view during the last mile because I was really close to the second girl."
The event was launched in 2011 when it attracted about 2,000 runners.