Oxford 'underground tunnels' congestion plan approved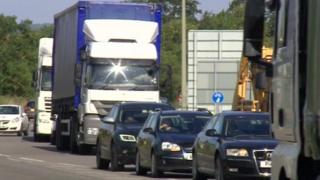 A £1bn plan which could bring underground traffic tunnels to Oxford has been approved by county councillors.
The Local Transport Plan contains ideas designed to improve links and ease congestion across Oxfordshire over the next 16 years.
Proposals also include bendy buses for Oxford and remote park and ride sites.
Funding would have to be found but councillors said doing nothing was not an option.
Ian Hudspeth, leader of Oxfordshire County Council, described it as an "evolving" and "long-term" document which goes up to 2031.
"What it means is we've got strategies in place, so that should funding become available from central government, we can hook on, bid for funds, get the funds and deliver the services," he said.
By 2031, he said it was "very likely" a lot of the ideas in the plan would go ahead.
However, he said full consultation would take place before any of the proposals move forward.
---
Analysis: Helen Catt, BBC Oxford Political Reporter
Some of the suggestions in this transport plan, like bus tunnels running underneath Oxford's historic city centre, probably won't make it off the drawing board.
But others, like a workplace parking levy, have been discussed a few times now.
The county council is clear something needs to be done to relieve congestion on Oxfordshire's roads.
Now its big ideas are in an official plan, it can start trying to get government money to turn at least some of them into reality.
---
The idea of moving park and ride schemes further out of the city centre has already raised concerns about the possibility of them being built in the countryside, and on greenbelt land.
Mr Hudspeth said the authority wanted to get cars off the road "as soon as possible" to help ease congestion.
He said a dedicated lorry park at Lodge Hill would also provide a stopping place for lorry drivers who usually use lay-bys on the A34.
Other potential locations for remote park and ride schemes are Langford Lane, East of Kidlington, Eynsham, Cumnor and Sandford.
The plan also suggests charging companies a levy for employee parking.
A similar scheme in Nottingham sees large companies charged £350 a year per space.