Anniversary of Little Baldon RAF crash marked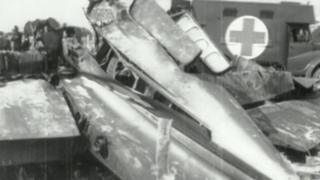 A memorial service has been held in Oxfordshire to mark the 50th anniversary of one of the UK's worst peacetime military air disasters.
Forty-one people died when an RAF transport plane crashed at Little Baldon near Abingdon on July 1965.
Residents and relatives of the victims attended the service which was followed by a flypast.
The Rev Paul Cawthorne said there was still a "real poignancy" to the commemorations.
The service at Toot Baldon Parish Church featured an RAF guard of honour.
Crosses for each victim were placed in the church entrance before a flypast by an RAF Hercules plane.
Mr Cawthorne, who led the service, said: "It's interesting hearing the recollections of the sense of shock of those dealing with the aftermath of it all.
"It's a tribute to the villagers that observance of this has been kept going over the years."
The Handley Page Hastings C1A transport aircraft crashed shortly after taking off from RAF Abingdon on the afternoon of 6 July 1965.
Those on board included six crew, soldiers from the parachute regiment and parachute jump instructors. The plane had been due to drop parachutists over RAF Weston-on-the-Green.
Len Smith, who witnessed the crash a young boy, remembers hearing "banging noises" before the plane stalled and crashed upside down in fields.
"I just remember the engine noise didn't sound right. Flames just went up like a bonfire followed by the black smoke. I was shaking - it affects you forever," he said.