Campaign to halt hospital kitchen closure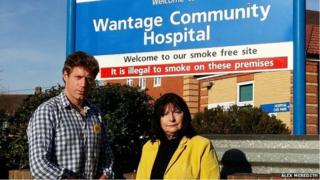 A campaign to stop the closure of kitchens at Oxfordshire community hospitals is asking every resident to donate 45p to save the service.
Oxford NHS Health Trust want to replace freshly cooked food with ready meals to save £300,000.
The Better Hospital Food campaign said patients "value" home cooked food and "recover more quickly".
Oxford Health Trust said 90% of its patients already ate ready meals said the food was "good".
The trust said it planned to introduce ready meals to community hospitals in Wantage, Didcot, Wallingford, Chipping Norton and Witney this month.
Alex Meredith, of the Better Hospital Food campaign, said: "One of the reasons given by Oxford Health is the cost, and potential cost savings.
"They have given us a figure of £300,000 per year. We thought with 660,000 thousand people in Oxfordshire, if we all gave 45p we could meet the cost saving they make by closing the kitchens, then we could save the kitchens."
Mr Meredith called for a consultation and said the cash appeal was also about raising awareness.
Oxford Health said financial savings were "not the driving motivation behind this decision".
'Nutritional value'
It said: "The move to cook chill meals across all of our sites gives our patients a consistent quality, with an assured nutritional value and portion size."
Celebrity chef and Oxfordshire resident Raymond Blanc was one of 17 people who signed a letter opposing ready meals replacing freshly cooked food.