Park and cycle scheme opens at Oxford Park and Rides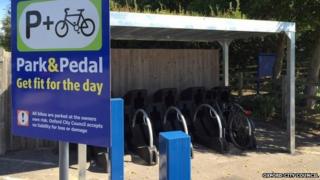 A £68,000 scheme to encourage cycling to and from two of Oxford's park-and-ride sites has been opened.
Park and Pedal provides free parking facilities for 110 bikes at Redbridge and Seacourt park and rides.
The facilities, which include shelters and car-shaped bike racks, are part of a three-year £367,000 programme to improve cycling provision.
Oxford City Council said it hoped the scheme would encourage commuters to cycle part of their journeys.