St Edburg's school bell relocated to new home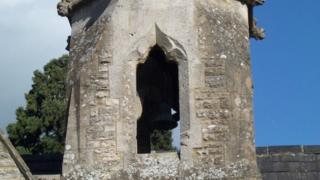 An operation is under way to relocate a 156-year-old school bell to new modern premises in Oxfordshire.
St Edburg's Church of England Primary School, Bicester, is moving to a larger site on the Kingsmere development.
Head teacher Margaret Kunzer said: "We'll be on a brand new estate in a brand new building and we don't want to lose our sense of history."
The bell has rung every day for the past 156 years to mark the start of a day's lessons.
'History very important'
A bell tower has been built at the new school especially to house the 100lb (45kg) artefact.
Mrs Kunzer added: "We want to take the school bell with us because our history's very important. It's a direct line to our school here linking the old to the new.
"Many Bicester families have long associations with the school and we have parents and grandparents connected with us who would have come here."
The bell is being moved by Whites of Appleton, which claims to be the oldest bell hanging company in the UK.
St Edburg's is the oldest primary school in Bicester having opened in 1859.