World Pooh Sticks Championships takes place in Witney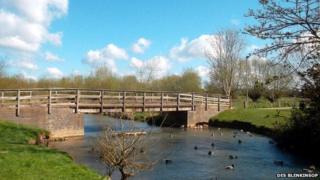 The World Pooh Sticks Championships have been held in a new location for the first time in 32 years.
Inspired by AA Milne's classic Winnie the Pooh books, the world-famous event sees competitors race sticks under a bridge.
This year's tournament has been staged on the River Windrush at Langel Common, near Witney, Oxfordshire.
The event started in Little Wittenham 32 years ago, but had to move due to "logistical problems".
An appeal was launched to find a new venue earlier this year, after an increase in popularity meant the original spot on the Thames at Day's Lock was no longer suitable.
Organisers, the Rotary Club of Oxford Spires, eventually settled on the bridge, which links Witney with Cogges Manor Farm, a filming location for ITV drama Downton Abbey.
The farm's owners have organised a Stick Day event to coincide with the championships.
Money is being raised for local and national charities as well as the RNLI.