Abingdon US installs red phone box in tribute to Abingdon UK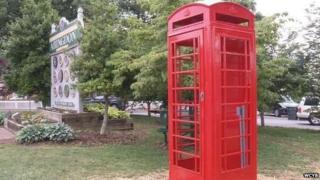 A town in the US has installed red telephone boxes as a tribute to a town with the same name in England.
Abingdon, Virginia, is using the booths as information kiosks, which officials at Abingdon Town Council, Oxfordshire, helped source.
The council in the US then had the boxes shipped over.
Mike Badcock, a town councillor in Abingdon, England, said: "They're playing on their heritage roots. They're just very proud of us."
He said the US town emailed him, saying the boxes would be a tourist attraction and would be used to put tourist information in.
"They came up with the idea, so I gave them a few places they could find them. I said they would weigh a ton," he said.
The town's new phone boxes can be found on Main Street and at the start of the Creeper Trail, with a ribbon cutting ceremony planned for July.
Oxfordshire's Abingdon is thought to date back to the Iron Age, whilst its US counterpart was established in 1778, two years after the Declaration of Independence.
A Tale of Two Towns
Abingdon, UK
Abingdon, US
Population 33,130
Population 8,191
62.6 miles (100km) from London
361 miles (581km) from Washington, DC
County - Oxfordshire
County - Washington, State - Virginia
Notable previous inhabitants: Radiohead, David Mitchell (comedian)
Notable previous inhabitants: Scott Cooper (director)