Green belt parking plan for Oxford's John Radcliffe Hospital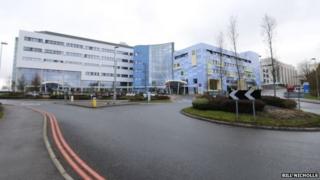 Green belt land could be turned into a park and ride site to help alleviate "nightmare" traffic and parking issues at Oxford's John Radcliffe Hospital.
Visitors have faced 45 minute waits for spaces, which has led to some patients missing appointments.
Oxford University Hospitals NHS Trust said discussions with the city and county councils were under way.
The county council said green belt land close to Marsh Lane and the northern bypass was being considered.
David Nimmo-Smith, head of transport at the county council, said the site would be used for a dedicated staff park and ride scheme.
However, he said the authority was "just exploring ideas at the moment".
'Immense frustration'
Mr Nimmo-Smith said the county council was also in talks with the local bus companies about expanding the city's existing park and ride sites.
However, he said the routes would need to be subsidised and the council did not have the money.
Watchdog Patient Voice said parking issues had led to some patients missing appointments.
Victoria Couling, from the Royal College of Nursing in Oxfordshire, said: "The traffic is just a nightmare, and then when you get onto the site the queuing and the waiting is awful."
In a statement, Oxford City Council, said: "Limits on car parking have been a vital part of the transport strategy for Headington, which has prevented traffic growth in Headington in the last ten years.
"Extra car parking spaces at the hospitals would only draw further traffic to this part of Oxford."