Oxford's Randolph Hotel reopens after fire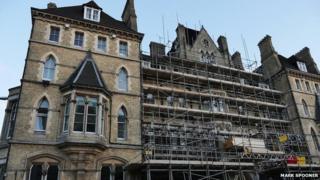 The five-star Randolph Hotel in Oxford, which was damaged in a major blaze last month, has reopened.
The fire at the 150-year-old building in Beaumont Street was sparked by a flambéed beef stroganoff in its kitchen, ripping through three floors.
The Gothic building reopened its doors to hotel guests and customers at 10:00 BST.
Jonathan Dawson, regional management director for Macdonald Hotels, said he was "delighted".
Damaged areas in the hotel will be boarded off while repairs are carried out, but 110 of the 150 rooms will be available.
At the height of the fire on 17 April, 14 fire engines were on the scene as crews battled the blaze while thick black smoke spread across the city.
More than 80 people were evacuated, though there were no reported injuries.
Scaffolding has since been brought in to protect the roof gable ends from collapse.
Mr Dawson said: He added: "The £5.6m investment programme which had started in the hotel just prior to the fire will also recommence.
"We would like to thank Oxford Fire and Rescue, the hotel team, the local community of Oxford and the contractors for all their support and efforts over the last few weeks."
The hotel was a regular feature in the TV series Inspector Morse, where it featured as one of the detective's favourite haunts.