Ring-necked ducks spotted at nature reserve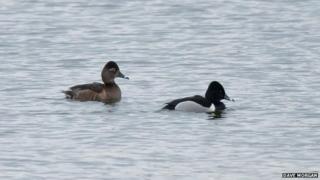 Birdwatchers have flocked to a former gravel pit in Oxfordshire to see the "unprecedented" sight of four rare birds.
The ring-necked ducks are native to North America and are thought to have come over to the UK during a storm.
Mark Thomas, at the RSPB, called the sighting "really unusual" and possibly the largest group seen in England.
Official bird recorder Ian Lewington said the ducks in Standlake were attracting a stream of admirers.
The three drakes and one female were first spotted on Saturday in "Pit 60" by Witney birdwatcher Dave Doherty.
"We've got four American visitors here in Oxfordshire," Mr Lewington explained.
"We get two or three records in the country a year... but they've always been single birds.
"A single ring-necked duck on its own would attract a trickle of admirers but four is unprecedented."
Ring-necked ducks usually migrate south from North America each winter, sometimes as far as Central and South America.
"However, there's no reason why they couldn't breed over here at some point," Mr Lewington said.