Nasreen Akhtar murder: Appeal renewed on 20th anniversary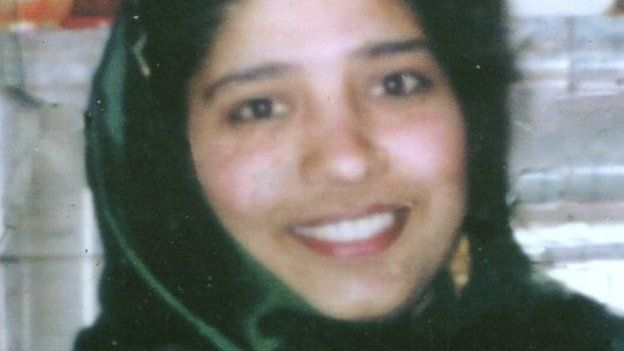 The unsolved murder of a mother of four at her home in Oxford 20 years ago that left her family "shattered" is to be reviewed by police.
The body of 29-year-old Nasreen Akhtar was found by two of her children as they returned home from primary school in March 1995. She had been strangled.
Her husband Hakim Khan was charged with murder but acquitted at a trial.
Thames Valley Police said: "Those who found it difficult to talk to the police at the time may now be able to."
Ms Akhtar had walked her children to St Ebbes School on the morning of 30 March 1995 and visited a friend in Marlborough Road on the way home.
A refuse collector noticed a door open at Ms Akhtar's house in Cobden Crescent later that morning.
Two of her children, then aged eight and nine, returned from school that afternoon to find her body in the living room.
A video recorder was missing from the room but the rest of the house remained undisturbed.
Mrs Akhtar's son, Imran Khan, who was ten at the time of the killing said it had "shattered" the family.
He said: "The killer has been allowed to continue with their life. They have remained unpunished for the horrific act they have committed and the effects of their actions have had on four young children is unacceptable."
The head of Thames Valley Police's major crime investigation review team, Peter Beirne, said: "Despite a thorough and professional investigation, the offence remains undetected.
"We are now in the process of starting a review in to the case and I ask that anyone who has any information about Nasreen's murder to come forward.
"Allegiances may have changed with the passage of time and those who found it difficult to talk to the police at the time may now be able to do so."
Related Internet Links
The BBC is not responsible for the content of external sites.