Oxford University's Weston Library reopens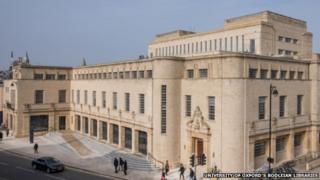 Oxford University's Weston Library has reopened to the public after an £80m transformation.
The grade II-listed building in Broad Street has been restored and renovated over three years.
Some of its treasures, including the manuscript of Frankenstein, the Gutenberg Bible and Shakespeare's First Folio, are now on display.
A new exhibition, Marks Of Genius, has been unveiled by Prof Stephen Hawking and Sir David Attenborough.
Prof Hawking, who studied at Oxford as an undergraduate, said: "The works are the product of genius, be it Einstein, Newton or Shakespeare.
"I hope that thousands of people, young and old, will be inspired to develop ideas of their own, to experiment, try out new ways of thinking, and share their ideas with others."
Above and below ground, more than 40km (24 miles) of storage facilities now house special collections which include rare books, manuscripts, archives, music and maps.
Formerly the New Bodleian library, it has been renamed the Weston Library in honour of a £25m donation given in March 2008 by the Garfield Weston Foundation, a grant-giving charity.
The library, formally opened by King George VI in 1946, is one of the Bodleian Libraries - a collection of about 40 libraries that serve the University of Oxford.
Together the libraries form the largest university library system in the United Kingdom. They include the principal university library - the Bodleian Library - which has been a library of legal deposit for 400 years.