Bicester Town station rebranded as Bicester Village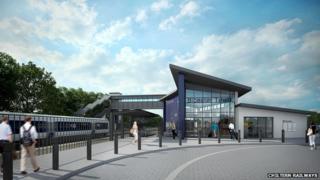 The decision to rename a railway station in an Oxfordshire market town has sparked outrage.
Bicester Town station is being rebranded as Bicester Village, named after the retail outlet which has contributed to congestion in the area.
Chiltern Railways said its decision could ease traffic by attracting more out of town shoppers to come by rail.
But resident Sallie Wright said switching the focus from the town to Bicester Village was a "disgrace".
Bicester Town Mayor Lynn Pratt called the name change "very disappointing".
She said: "The town council hadn't been informed the decision had been made.
'Swallowed up'
"It makes it sound like Bicester is only about Bicester Village. I have no arguments with Bicester Village whatsoever. I was down there last week to do some shopping. It's very good for the town.
"But I just feel this is a step too far."
A spokesman for the Bicester Traffic Action Group said: "Bicester is about more than a discount shopping mall, it's a thriving town of over 30,000 people and we have a history and culture that should be preserved and protected."
Ms Wright, writing on BBC Radio Oxford's Facebook page, said: "We are trying hard to keep Bicester as our town and surely but slowly we are being swallowed up by Bicester Village."
Thomas Ableman, director of Chiltern Railways, said: "Naming the station Bicester Village should encourage more visitors to travel via sustainable means and reduce congestion within the town."
The train operator pointed to an independent poll of Bicester households by Wavelength Insight, which found 49% of residents were in favour of a name change, compared to 23% in favour of keeping it.
The station has been completely rebuilt to form part of Chiltern Railway's new £130m Oxford to London Marylebone rail link.