Oxford sex abuse: 'Credible evidence' ignored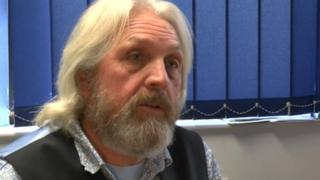 A council criticised over its handling of child sex abuse ignored "credible evidence" which could have saved one victim, a former detective has said.
Former Det Sgt Dermot Norridge said he first raised concerns about a 13-year-old girl with Oxfordshire County Council in 2007.
But, he said, his repeated warnings were ignored, leaving her at risk.
Then-head of children's services Andy Couldrick said the authority had not properly understood her case.
Details of Mr Norridge's warnings first emerged in a serious case review published by Oxfordshire Safeguarding Children Board into widespread abuse in the county.
'Stinging nettle'
It was launched after a gang of seven men was jailed in 2013 for abusing six girls in Oxford over an eight-year period.
According to the review, if Mr Norridge had raised the same concerns now it would have led to a "speedy recognition that something bigger might be happening, [but] at the time led to rather harsh disregard and criticism".
He reported men going into a flat "every night and leaving in the early hours of morning and seeing the 13-year-old lying under a cover with an adult male", the report states.
Mr Norridge, who worked as a city council noise nuisance officer after he left Thames Valley Police, said: "I had credible information, I had credible evidence.
"I was somebody who had experience of dealing with child protection issues.
"I could see that this child needed protecting."
Despite raising his concerns over a nine-month period, and copying several social workers and colleagues into emails, he said authorities failed to act on his information.
"I was trying to encourage them to take action," he said.
Mr Norridge said he became "so frustrated" at being ignored he marched to the council's County Hall HQ and demanded to see the director of social services.
After "standing his ground", he was greeted by the assistant director instead, he said.
"They didn't grasp this stinging nettle hard enough and deal with it as they should have done", he said.
"It should have been investigated."
He said afterwards the county council complained to Mr Norridge's boss about his behaviour, and he was told senior staff did not like being criticised by a junior person.
"Top managers in Oxfordshire's social services department… knew about my concerns, that's why a complaint was made to Oxford City Council about the content of my emails," he said.
"They must have known in actual fact what the emails said to make the complaint."
Andy Couldrick, then head of children and families at Oxfordshire County Council, and now chief executive of Wokingham Borough Council, said: "[The serious case review] does not paint a picture of the concerns raised in 2007 that I recognise entirely.
"I consulted with her social worker, and the manager of the home in which she was living, and they in turn with Thames Valley Police officers.
"We did not understand this type of abuse and its scale at that time, and were focused on individual young people."
Bob Price, the leader of the city council, said it never told Mr Norridge to stop raising concerns.
He added: "We did ask him to moderate his tone which was clearly causing offence and we apologised for that tone.
"However, we never questioned or apologised for the content of his emails because his referrals were accurate and appropriate.
"The issue was not escalated as senior representatives from those organisations reassured us that appropriate action was being taken.
"Our staff did a good job and we are grateful to them. It's disappointing to know that they could have made a huge difference had they been listened to."